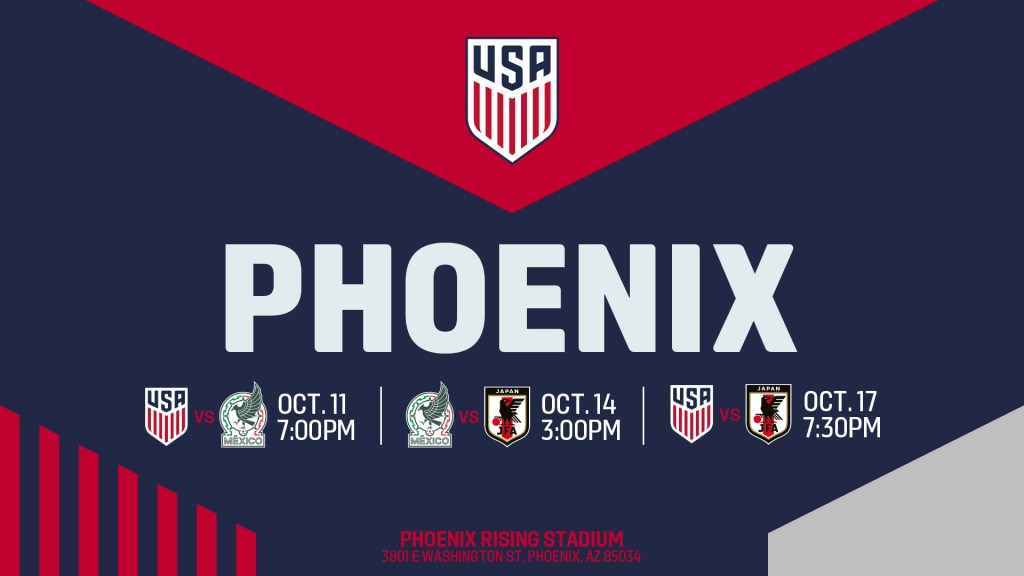 Phoenix Rising FC will host the U.S. Men's 2024 Olympic Team during a trio of friendlies at 38th St./Washington Oct. 11 (U.S./Mexico at 7 p.m.), Oct. 14 (Mexico/Japan at 3 p.m.) and Oct. 17 (U.S./Japan at 7:30 p.m.), the club announced today.

Tickets for all three matches will be available for purchase by Phoenix Rising Season Ticket Members beginning this Friday, Sept. 29 at 10 a.m. Public on-sale will begin Saturday, Sept. 30 at 10 a.m. Visit PHXRisingFC.com or call 623-594-9606 for more information.
 
The U.S. Men's Under-23 Training Camp will kick off preparations for the U.S. Men's first Olympic appearance since Beijing 2008. The U-23 MYNT serves as an important part of U.S. Soccer's mission to develop winning teams as it will provide some of the nation's top young talent the opportunity to face elite opposition on the world stage next summer.
SCHEDULE
Wednesday, Oct. 11 – USA vs. Mexico – 7 p.m. MST/PT
Saturday, Oct. 14 – Mexico vs. Japan – 3 p.m. MST/PT
Tuesday, Oct. 17 – USA vs. Japan – 7:30 p.m. MST/PT

The USA qualified for its first Olympic Men's Football Tournament in 16 years with a dominant performance at the 2022 Concacaf U-20 Championship. There, the U.S. topped host Honduras 3-0 before a raucous crowd in San Pedro Sula to secure its Olympic berth.
Mexico will not compete in the Olympics, missing the tournament for the first time since 2008 after a bronze medal finish at Tokyo 2020. Japan finished fourth as host of the delayed 2020 Olympics. The Samurai Blue are preparing for next spring's 2024 AFC U-23 Asian Cup in Qatar, which will see three Asian nations qualify for Paris 2024. Japan is currently competing at the Asian Games, kicking off the tournament's knockout stage tomorrow, Thursday, Sept. 28.
The U.S. and Japan faced off during the last U-23 MYNT cycle in Sept. 2019, a 2-0 victory for the USA in Chula Vista, Calif. The nations also met at the USA's last Olympic appearance in 2008, a 1-0 victory for the red, white and blue in Tianjin, China.

Stu Holden scored the lone goal for the U.S. The teams also drew 2-2 in the quarterfinals of the Sydney 2000 Olympic Games, with Josh Wolff scoring the USA's opening goal as the U.S. ultimately prevailed 5-4 on PKs.
About the U.S. Soccer Federation
Founded in 1913, U.S. Soccer has been the official governing body of the sport in the United States for more than 100 years. As U.S. Soccer looks toward the future amid an unprecedented moment of opportunity, we've aligned our efforts around five strategic pillars: Grow the game by increasing youth and adult participation and accessibility to the sport; Foster the best playing environments through quality of referees and coaches, increase DEIB and participant safety; Develop winning teams through solidified pathways and success of professional leagues; Grow the soccer economy to fuel reinvestment by increasing membership, fandom and commercial success; and Create a world-class organization through revitalized structure and culture, best-in-class talent, progress in DEIB, and more. For more information, visit ussoccer.com/ourvision.