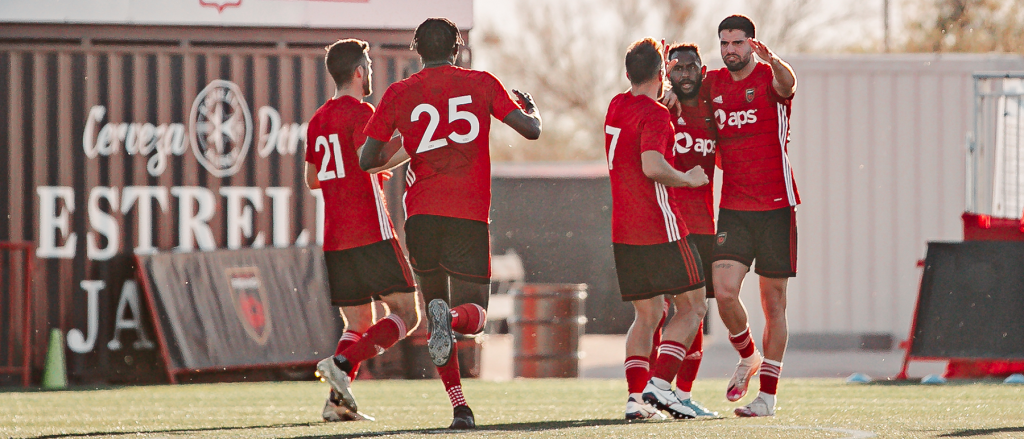 Phoenix Rising FC defeated Major League Soccer side Sporting Kansas City, 2-1, tonight at Wild Horse Pass.
Santi Moar and Arturo Rodriguez scored for Rising, which returns to preseason action against Louisville City next Saturday, Feb. 19 (7 p.m.), at Wild Horse Pass. Tickets for that match are available by clicking here.
Rising goalkeeper Ben Lundt made an outstanding, point-blank save on Khiry Shelton at one end of the pitch before Claudio Repetto set up Luis Seijas to round out the first minute of action. Unfortunately for Rising, Seijas' first-touch shot went high over the near post to Sporting Kansas City goalkeeper Tim Melia's left side. For Repetto, Rising's newest signing that was officially announced just six-and-a-half hours prior to kickoff, his first touch was nearly an assist.
Sporting KC took a 1-0 lead in the 12th minute on a quick counterattack down Rising's right side. Sporting's Logan Ndenbe set up the chance, playing a ball over the top to Daniel Salloi, who sped down the right side of the box and fired a shot that eluded Lundt and caught the side-netting at the back post.
Rising made it 1-1 in the 28th minute when Repetto unlocked the Sporting defense with a chipped header into space. Darnell King caught the pass in stride and was in on goal before slotting a pass to the back post for Santi Moar to finish off the chance with a sliding effort.
The first half concluded, 1-1, and Rising head coach Rick Schantz made wholesale changes to his lineup to begin the second half. Marcus Epps broke free to start the second 45, but pushed his low shot to Melia's right side, off the outside of the post.
Sporting nearly took a 2-1 lead in the 57th minute as the visitors once again worked down Rising's right flank. The build-up resulted in a free look from the top of the area but the shot was pushed wide of the goal at the last second by a sliding block by Ryan Flood.
Channing Chasten nearly gave Rising a 2-1 lead in the 72nd minute. The left back came free after a ball was played over the top of Kansas City's backline. Chasten timed his run perfectly, brought the ball down with a defender on his back and tried to beat Sporting goalkeeper John Pulskamp, low to his near post. Fortunately for Sporting, the goalkeeper stood his ground and made the save to keep it, 1-1.
Chasten got free down the right side again in the 79th minute and played a ball across the area, only to have it hit the arm of a Sporting KC defender. The referee pointed to the spot and Arturo Rodriguez stepped up to send Pulskamp the wrong direction, beating the goalkeeper high to his left side to make it 2-1.
Jayvin Van Deventer nearly tied the match moments later with a long-range effort but Lalo Delgado make an outstanding save, diving backwards to slap the chance over the bar and preserve the 2-1 lead.
Scoring:
SKC –Daniel Salloi (Logan Ndenbe) 12
PHX – Santi Moar (Darnell King, Luis Seijas) 27
PHX – Arturo Rodriguez (PK) 81
Discipline:
PHX – Luis Seijas (caution) 20
SKC – Johnny Russell (caution) 27
PHX – Aodhan Quinn (caution) 31
PHX – Jonathan Levin (caution) 69
SKC – Cam Duke (caution) 55
Lineups:
Phoenix Rising FC (first half) – Ben Lundt, Baboucarr Njie, James Musa, Manuel Madrid (Joe Farrell 17), Darnell King, Kevon Lambert, Luis Seijas, Aodhan Quinn, Joey Calistri, Santi Moar, Claudio Repetto (Greg Hurst 29).
Phoenix Rising FC (second half) – Lalo Delgado, Channing Chasten, Joe Farrell, trailist, Ryan Flood, Jonathan Levin (trailist 76), Ivan Gutierrez, Carlos Anguiano, Arturo Rodriguez, Marcus Epps, Greg Hurst (Richmond Antwi 66).
Sporting Kansas City – Tim Melia, Graham Zusi, Nicolas Isimat-Mirin, Andreu Fontas, Logan Ndenbe, Uri Rosell, Roger Espinoza, Cam Duke, Johnny Russell, Khiry Shelton (Rauf Salifu 17, Ozzie Cisneros 26), Daniel Salloi.
Sporting Kansas City (second group) – John Pulskamp, Kayden Pierre, Kortne Ford, Robert Voloder, Ben Sweat, Kaveh Rad, Jake Davis, Jayvin Van Deventer, Ozzie Cisneros, Rauf Salifu, Spencer Glass.
Head coach Rick Schantz
General thoughts on the match…
Some good moments… We made a couple mistakes. That's now the third goal we have given up in preseason that was an easy goal against us. We'll get that sorted out, but we've been playing against a couple good teams. You would expect them to expose you in those moments a little bit.
I did think some of the guys were fantastic. It's good to see Claudio [Repetto] out there. He showed his strength flicking that ball on for Darnell [King]. The first half was very competitive. It was very good to play a solid team like Sporting. The second half, I thought the first 15 minutes against their first team we were struggling a little bit but then we grew into it. To get the penalty and for Channing to get a good cross in and create that opportunity for us… I'm very happy for those guys.
Defender Darnell King
On his assist to Santi Moar…
When Claudio flicked the ball though I saw the space and got to the ball as quick as possible. I heard Santi [Moar] and took a quick glance. I knew he was ahead of the defense and behind me so I just crossed the ball in and he finished if off, like I hope it will be for the rest of the season.