Phoenix Rising FC has finalized its broadcast schedule for the 2023 season, which begins next Saturday, March 11, when the two-time Western Conference Champions travel to Charleston, South Carolina, to take on the Battery live on Arizona's Family Sports and Entertainment Network (AzFSEN) at 5:30 p.m.

A total of 33 regular-season matches will air live on AzFSEN for free, over-the-air on channel 44 and channel 13 on Cox Cable. For those without antennas or on the go, AzFSEN will also air those matches on the free AZFamily mobile and Smart TV apps, which are available here. The AzFSEN app broadcasts will not be available outside of Arizona.

In addition to the local broadcasts, 33 regular-season matches will stream live on ESPN+ as part of the USL Championship's partnership with ESPN. Through ESPN, fans can catch all 620 games of the 2023 USL Championship and USL League One campaigns – regular season and playoffs – LIVE on ESPN+ or an ESPN television network. This marks the eighth season that ESPN is the USL's exclusive national media partner.

Rising's Military Appreciation Night match at 38 St/Washington, which is set for Saturday, July 1 (8 PM), will air nationally on ESPN2. That match will not air locally on any of Arizona's Family networks.

Five key matchups will be simulcast live on 3TV and AzFSEN with one match airing on CBS 5. That game will be announced at a later date.

AzFSEN officially hit the airwaves on March 1. The network will feature historical Rising matches periodically and will show a replay of 33 of the 34 regular-season matches the Wednesday following each game.

Rising and Arizona's Family signed a three-year agreement on January 25 with the network becoming the official broadcast partner of the state's only professional soccer club.

Rising's home opener at 38th Street and Washington is set for Saturday, April 1 (7:30 p.m.), vs. San Diego Loyal SC. Fans can click here to learn more about securing tickets for that match OR here to view the full schedule.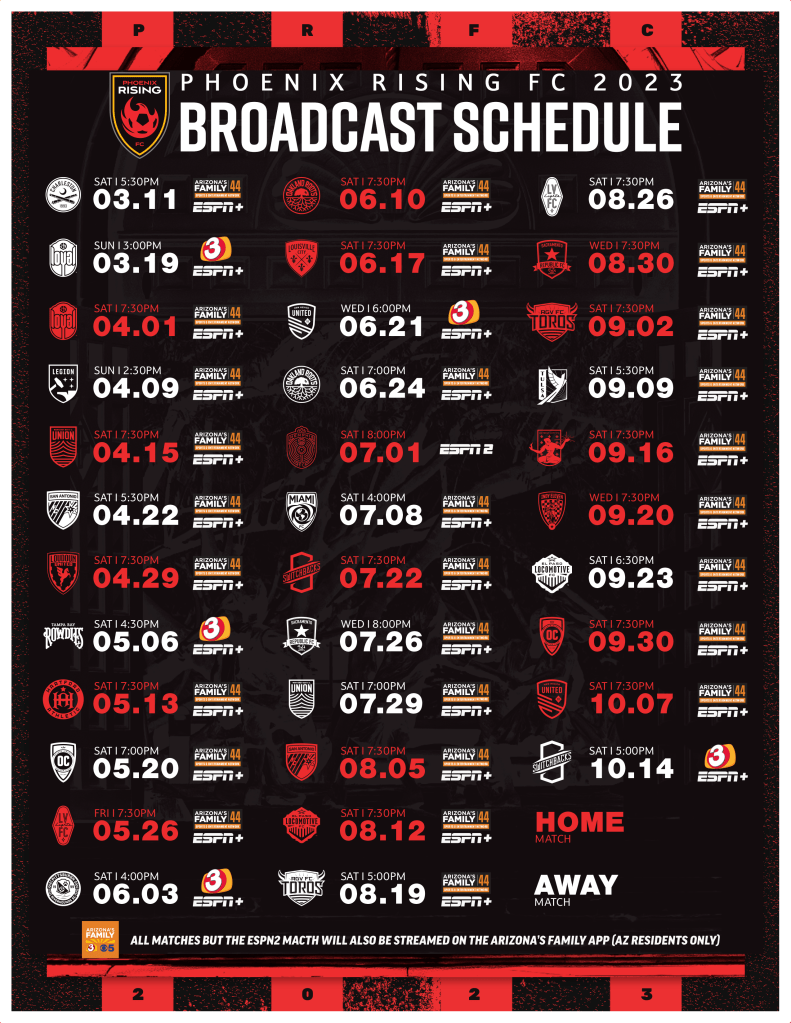 About Arizona's Family
Arizona's Family is the premier news and information destination for the Phoenix-metro area, serving nearly seven million people who call the valley home. The hyper-local independent spirit of 3TV backed by the investigative power of CBS 5, Arizona's Family delivers more original content, live breaking stories, and in-depth coverage on issues that matter most to the people of Arizona. All on the platform of your choice: on-air, online, social media and streaming TV devices.