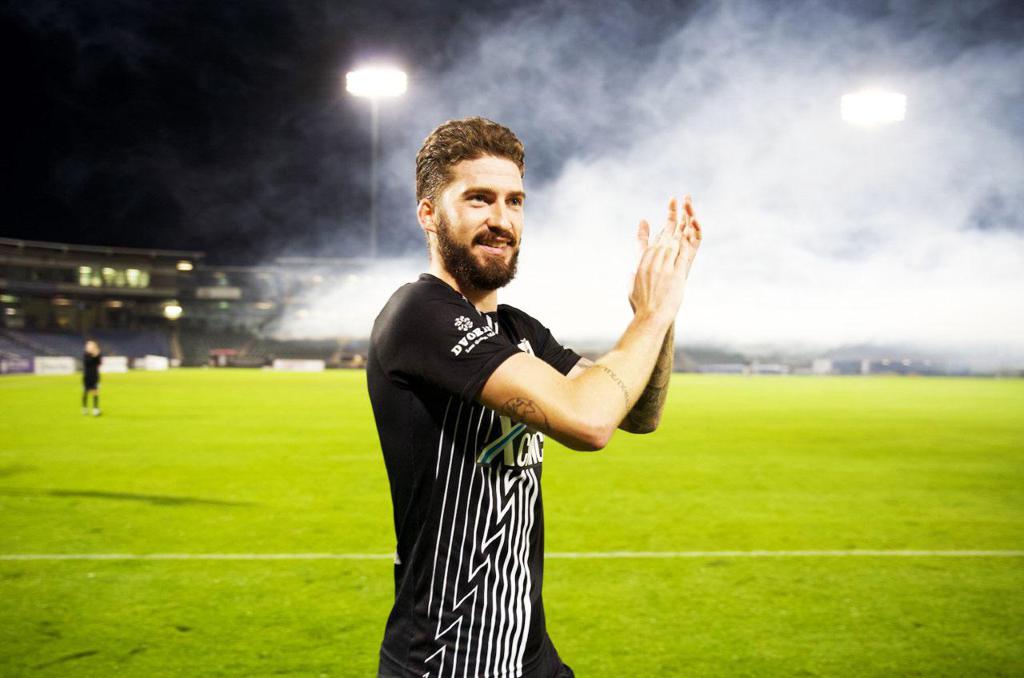 Phoenix Rising FC has signed forward Greg Hurst to a multi-year contract, the club announced today.
Hurst spent the last season with Union Omaha, where he helped the USL League One side claim its first championship in 2021. He appeared in 30 matches for Omaha last season, scoring 14 goals and two assists.
"Greg was a huge part of Union Omaha's championship run last season," said Rising head coach Rick Schantz. "We watched him and really noticed his soccer IQ. He has tremendous technical ability and very good off-the-ball movement. Greg can play as a 10, but most likely will feature as a striker for Rising. We couldn't be more excited about adding him to our roster."
Hurst, 24, began his career in Scotland with then Scottish League One side Stirling Albion. He appeared in two matches as a 17-year-old before gaining experience with Scottish League One, League Two and Premier League clubs. Hurst accumulated 68 appearances and 13 goals in Scotland by the time he turned 22.
Hurst came to the U.S. to join USL League One side Chattanooga Red Wolves SC in 2019, scoring 10 goals in 21 appearances before transferring to Union Omaha in 2021.
"Phoenix is one of the biggest clubs in USL," said Hurst. "I enjoy the style of football Rising play. It's super exciting to be here now and to be part of it. I feel like I will fit in very well with that style of play. I like to go forward and be dynamic. When I learned Phoenix was interested, I kind of dropped everything to be here. No one says no to Phoenix."
Rising now has 21 players under contract for the 2022 season. Returning players include Joey Calistri, Lalo Delgado, Niall Dunn, Joe Farrell, Ryan Flood, Ivan Gutierrez, Darnell King, Kevon Lambert, Jonathan Levin, Manuel Madrid, Santi Moar, James Musa, Aodhan Quinn, Arturo Rodriguez and Luis Seijas.
New arrivals for 2022 include Hurst, defender Channing Chasten, left back Baboucar Njie, winger Marcus Epps, midfielder Carlos Aguiano and forward Richmond Antwi.
Rising is set to open its 2022 season at Wild Horse Pass on Saturday, March 12 vs. Monterey Bay. Fans interested in learning more about attending a Phoenix Rising match in 2022 can click here to be contacted by a representative. Fans looking to secure seats can click here to place a deposit.
Transaction: Rising signs Greg Hurst
DOB: April 8, 1997 (24)
Previous Club: Union Omaha
Height: 6-0
Weight: 160
Position: Forward
Hometown: Dunblane, Scotland
Born: Dunblane, Scotland
Twitter: @GregHurst10
Phoenix Rising FC has signed forward Greg Hurst to a multi-year contract, the club announced today.

Hurst spent the last season with Union Omaha, where he helped the USL League One side claim its first championship in 2021. He appeared in 30 matches for Omaha last season, scoring 14 goals and two assists.

"Greg was a huge part of Union Omaha's championship run last season," said Rising head coach Rick Schantz. "We watched him and really noticed his soccer IQ. He has tremendous technical ability and very good off-the-ball movement. Greg can play as a 10, but most likely will feature as a striker for Rising. We couldn't be more excited about adding him to our roster."

Hurst, 24, began his career in Scotland with then Scottish League One side Stirling Albion. He appeared in two matches as a 17-year-old before gaining experience with Scottish League One, League Two and Premier League clubs. Hurst accumulated 68 appearances and 13 goals in Scotland by the time he turned 22.

Hurst came to the U.S. to join USL League One side Chattanooga Red Wolves SC in 2019, scoring 10 goals in 21 appearances before transferring to Union Omaha in 2021.

"Phoenix is one of the biggest clubs in USL," said Hurst. "I enjoy the style of football Rising play. It's super exciting to be here now and to be part of it. I feel like I will fit in very well with that style of play. I like to go forward and be dynamic. When I learned Phoenix was interested, I kind of dropped everything to be here. No one says no to Phoenix."

Rising now has 21 players under contract for the 2022 season. Returning players include Joey Calistri, Lalo Delgado, Niall Dunn, Joe Farrell, Ryan Flood, Ivan Gutierrez, Darnell King, Kevon Lambert, Jonathan Levin, Manuel Madrid, Santi Moar, James Musa, Aodhan Quinn, Arturo Rodriguez and Luis Seijas.

New arrivals for 2022 include Hurst, defender Channing Chasten, left back Baboucar Njie, winger Marcus Epps, midfielder Carlos Aguiano and forward Richmond Antwi.

Rising is set to open its 2022 season at Wild Horse Pass on Saturday, March 12 vs. Monterey Bay. Fans interested in learning more about attending a Phoenix Rising match in 2022 can click here to be contacted by a representative. Fans looking to secure seats can click here to place a deposit.

Transaction: Rising signs Greg Hurst
DOB: April 8, 1997 (24)
Previous Club: Union Omaha
Height: 6-0
Weight: 160
Position: Forward
Hometown: Dunblane, Scotland
Born: Dunblane, Scotland
Twitter: @GregHurst10