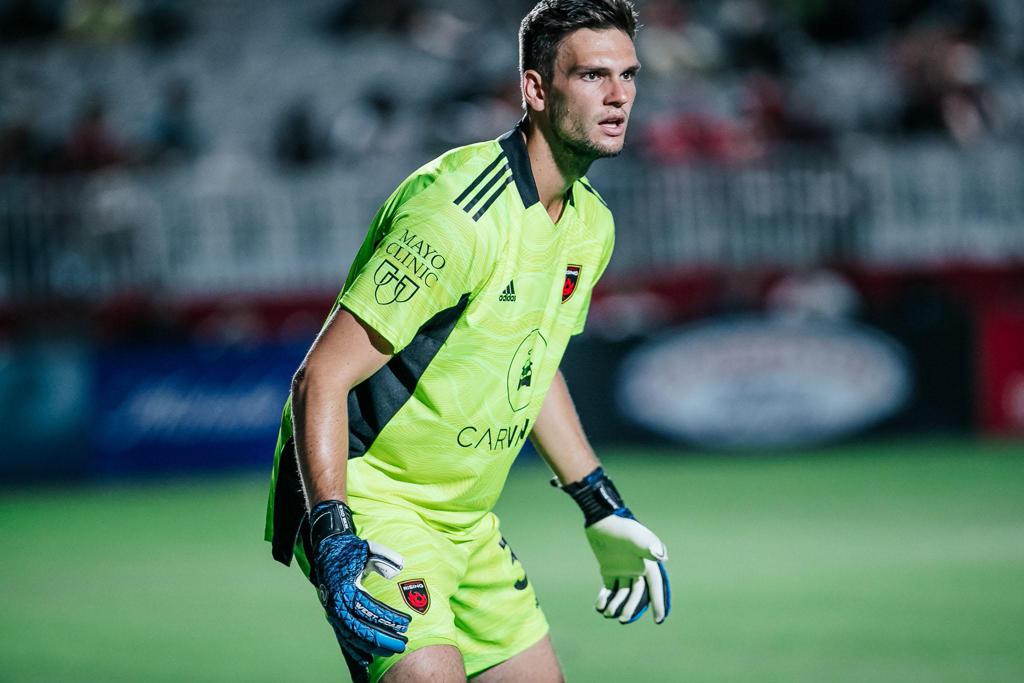 Phoenix Rising FC has signed goalkeeper Ben Lundt to a multi-year contract, pending USL and federation approval, the club announced today.
A familiar face in Phoenix, Rising first signed Lundt on May 6, 2021. The goalkeeper made nine appearances, totaling 810 minutes for Phoenix before being recalled by MLS side FC Cincinnati on Aug. 27. The 6'6" goalkeeper stopped 23 of the 33 shots he faced during his time in the Valley. Lundt earned four shutouts for the Pacific Division Champions, finishing his first tour with a record of 5-3-1 with nine goals against.
"Phoenix is a club I can grow along with and become a better professional," said Lundt. "From a team perspective, I know they feel they had too long of an offseason. We have to get a trophy back to Phoenix. I'm very familiar with the club and I know exactly what's expected of me in order to help make it happen."
Prior to signing with Phoenix in May, Lundt was the reigning USL Championship Goalkeeper of the Year in 2020. He made 44 saves and led the league with nine clean sheets for Louisville City FC that season.
Lundt made his USL Championship debut for Louisville in 2019, making 12 appearances and recording four shutouts to follow a historic career at the University of Akron. He made 64 starts in three seasons for the Zips (2016-18), winning three consecutive MAC Championships. The 26-year-old was born in Berlin, Germany, beginning his career with Hertha BSC's U-17s and U-23s.
Rising has 22 players under contract for the 2022 season. Returning players include Lundt, Joey Calistri, Lalo Delgado, Niall Dunn, Joe Farrell, Ryan Flood, Ivan Gutierrez, Darnell King, Kevon Lambert, Jonathan Levin, Manuel Madrid, Santi Moar, James Musa, Aodhan Quinn, Arturo Rodriguez and Luis Seijas.
New arrivals for 2022 include Hurst, defender Channing Chasten, left back Baboucar Njie, winger Marcus Epps, midfielder Carlos Aguiano and forward Richmond Antwi.
Rising is set to open its 2022 season at Wild Horse Pass on Saturday, March 12 vs. Monterey Bay. Fans interested in learning more about attending a Phoenix Rising match in 2022 can click here to be contacted by a representative. Fans looking to secure seats can click here to place a deposit.
Transaction: Rising signs goalkeeper Ben Lundt to a multi-year contract
Name: Ben Lundt
HT: 6-6
WT: 220
DOB: Sept. 24, 1995 (26)
College; Akron
Birthplace: Berlin, Germany
Hometown: Berlin, Germany
Twitter: @LUNDT_BEN