---
---
---
New Member FAQs
NEW MEMBERS
What payment plan options will be available?

Rising will be offering a prorated seven-month payment plan starting on February 15 and ending August 15 with the respective payments being run on the 15th of each month. As well as payment-in-full for our members.
Upon checkout, you will be asked to confirm payment type and method. Please contact sales@phxrisingf.com with any questions before securing your season tickets.
How will I access my tickets?

Match tickets will be 100% digital via the official PRFC App. Premium members will receive credentials for access to designated areas.
What payment plan options will be available?

Rising offers payment plans. Payments are run on the 15th of each month. All 2021 memberships must be paid in full by August 15. Please contact your representative for any special circumstances related to your plan.
How does the ticket exchange benefit work?

Ticket exchange is the opportunity to exchange your tickets to matches you are unable to attend. You will be able to exchange your tickets, up to 48 hours before kickoff and can move them to another game of your choosing*. The exchanged tickets will be placed in the best-available seats in relation to your membership level. Limitations may apply.
What is the PUB 2 PITCH Program?

The PUB 2 PITCH program is a network of PRFC supporting bars and restaurants that allow you and other members to meet for pre-match drinks and food. This also provides shuttle transportation to-and -from the match. PUB 2 PITCH partners are also hosting locations for away watch parties and certain member events.
Click here for more PUB 2 PITCH details.
Where is parking and where do I sign up for VIP parking?

All full-season members will have free designated parking in the general lot with the opportunity to purchase season and single VIP parking passes. Please contact sales@phxrisingfc.com for more details.
What is Kids' Club membership and where it is available at?

Kids' Club membership is a discounted season-member rate for kids aged three to 12 years of age. Kids' Club pricing varies by section and is not available for premium seating or row A. Kids' Club members will also receive their own kid-specific benefits.
PREMIUM SEATING EXPERIENCE
The elevated gameday experience is for all members and attendees to safely enjoy with family, friends, and coworkers or clients. The premium elements have been improved to cater to businesses or any fan that prefers a higher level of service and experience.
For more information about premium seating, click here.
RESERVED SIDELINE LOCATIONS
All reserved-seating locations are sideline Sections 101-107 and 108-114. As well as a new and expanded second level, Sections 201-207. All reserved-location members will have free designated parking for each match with the ability to purchase VIP Parking on a season or single-match basis.
GENERAL ADMITTANCE LOCATIONS (SUPPORTER AND NORTH BLEACHERS)
These sections are in the North and South end line behind the goals. The South end is the official PRFC Supporter Section, where fans will be standing, singing and cheering for the entire match.

The North and South end will be bleacher style with no assigned seats, therefore first-come-first-serve.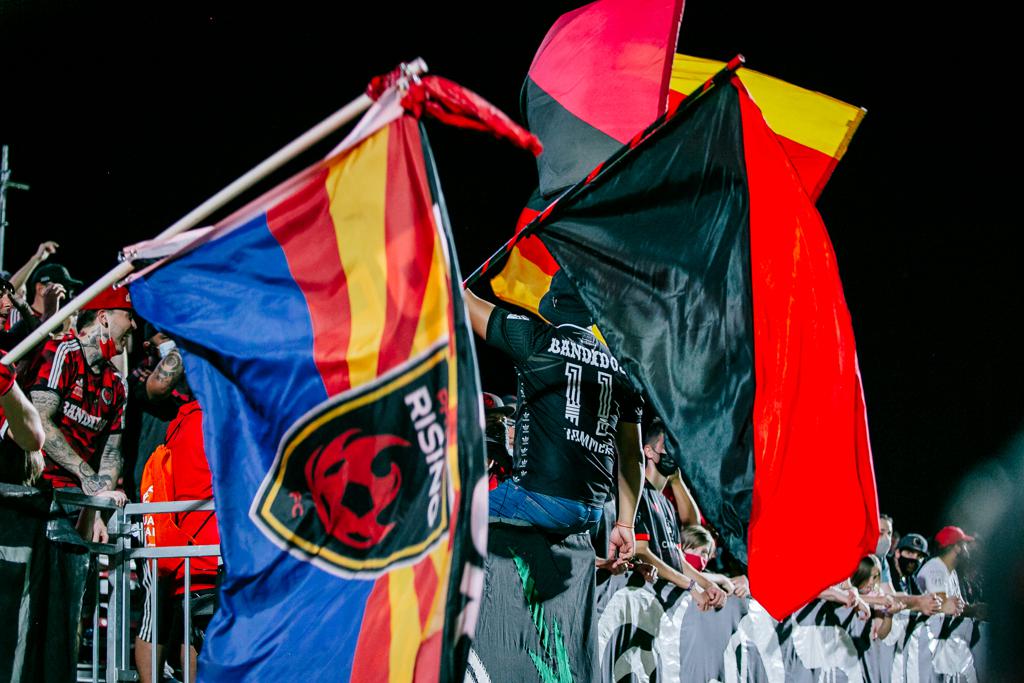 WHAT IF I CAN'T MAKE IT TO CERTAIN MATCHES?
If you cannot make certain matches, you will be able to exchange out of games for another.
Members will not be able to exchange out of the September 15 match, and cannot exchange tickets into the October 30 match.
All exchange requests must be submitted before 48 hours to the match. Exchanged tickets will be sat based on availability as close to your season seat location as possible.
WHAT IF I WANT TO SIT NEAR A CURRENT SEASON MEMBER?
We will do everything we can to get you as close to your family or friends that are already members, limited availability may apply regarding other members and season commitments.
For any questions regarding Phoenix Rising tickets or your season membership please contact 623.594.9606 or sales@phxrisingfc.com