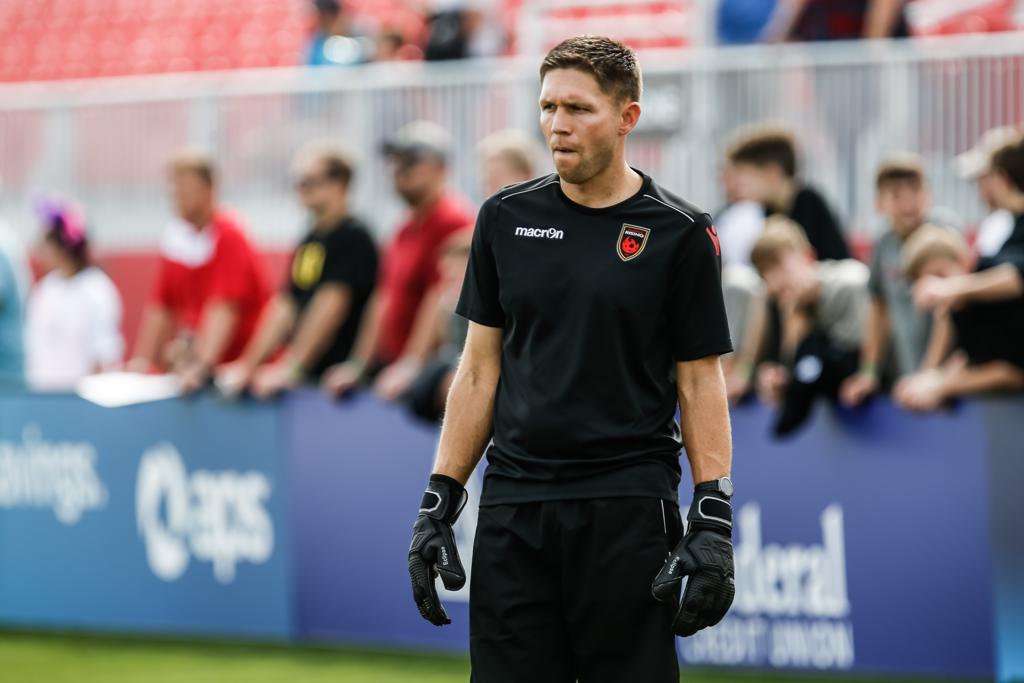 Cory Robertson brings a local touch to Phoenix Rising Football Club, as he enters his seventh season as goalkeeper coach.

Last season, Robertson continued working with Rising goalkeeper Zac Lubin. In a pandemic-shortened season, Lubin was fourth in the Western Conference in saves (46) and third in clean sheets (5). During the club's 2020 playoff run to the Western Conference championship, Lubin made 15 saves over the course of three matches and earned a clean sheet. He also saved two penalty kicks, one each in the Western Conference Semifinals and Finals.
In 2019, under Robertson's training, Rising goalkeeper Zac Lubin finished the year with the highest save percentage (80%) and most wins (22) among all USL goalkeepers. He also finished second in the league in clean sheets (13) and his goals-against per 90 minutes (0.86) was fourth-best in the league.
In 2018, Robertson led a goalkeeping corps that combined for 16 clean sheets, a single-season club record. Goalkeeper Carl Woszczynski broke the individual single-season club record with 13 clean sheets, good enough for third-best in all of USL Championship. Woszczynski also set a club record for goalkeeper minutes, playing 2,633 minutes in 29 appearances. Woszczynski also finished in the top ten in save percentage (75.5%) and goals against per 90 minutes (0.95).
In 2017, Rising goalkeeper Josh Cohen led all USL goalkeepers in wins (15). He also finished top 10 in the league in goals-against per 90 minutes (1.15), save percentage (78.4%), and clean sheets (9).
Previously under Robertson's tutelage, Woszczynski set a USL record for most saves in a season (130) in 2015. The previous record had been 115. In Robertson's first season, Arizona United SC goalkeepers combined to finish second in the USL PRO in saves and sixth in shutouts with five.
In his span of six seasons, he has helped Josh Cohen rise to one of the top goalkeeper in the Israel Premier League with Maccabi Haifa F.C., as well as Evan Newton who went on to play in the MLS with F.C. Cincinnati.

Robertson currently serves as the Director of Goalkeeping with Phoenix Rising Youth as well. Under his direction, the first team has signed 2 youth goalkeepers to Academy contracts, training daily with the professional team. Prior to that, as an assistant coach for the men's and women's programs at Drexel University, helping both programs to conference championships and the men's program to the NCAA Tournament after a 40 year absence. While in Philadelphia, he served as the Director of Goalkeeping for the Greater Chester Valley Soccer Association, and Abington Community United Soccer.
Robertson played collegiate soccer for the Drexel University men's soccer program from 2005 through 2009. His play on the field assisted Drexel University in capturing their first Colonial Athletic Association (CAA) title in 2007. Robertson was named to the All-CAA Third Team in 2007, and wrapped up a successful career for Drexel University with 209 saves, and 17 clean sheets in over 50 matches. Prior to college, he played his youth soccer at Sereno Soccer Club.
Robertson earned a B.A. in Entrepreneurship, Marketing and a Master of Science in Sport Management at Drexel University. He holds his USSF 'B' License, National Youth License and NSCAA Goalkeeping Diploma.